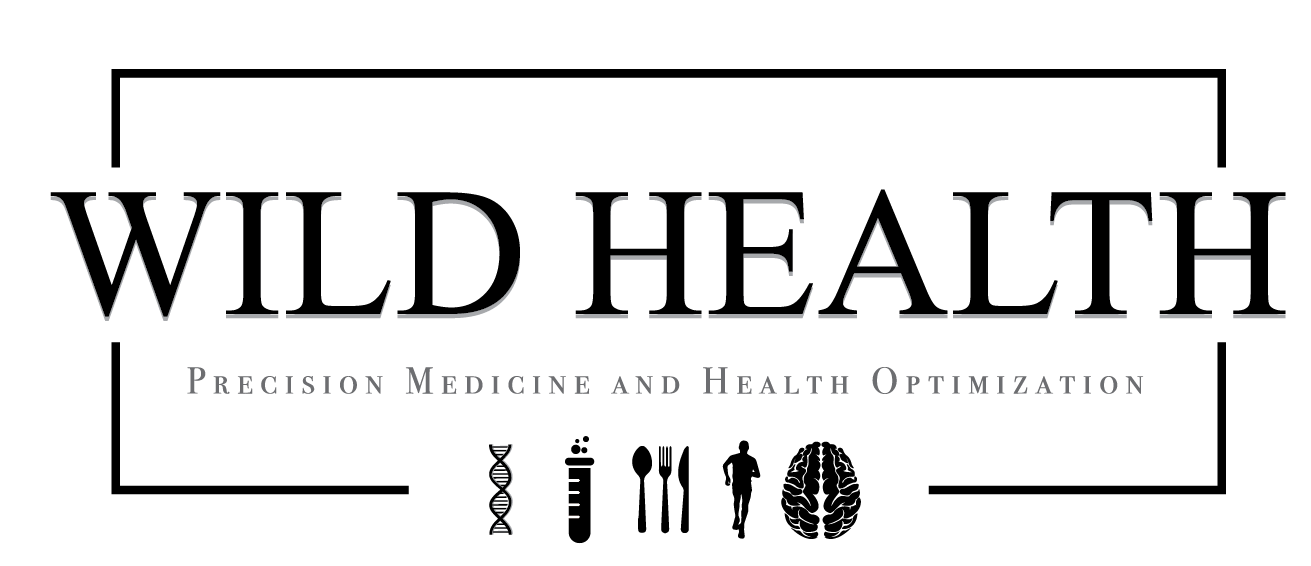 You deserve better than the assembly-line medical system. The world deserves the optimized version of you. We can help get you there. Wild Health is dedicated to optimizing your health and longevity. We want to help you live the best life you can, for as long as possible.
Our mission is to first know you. That starts with an exhaustive conversation about your goals, history, and medical concerns. But we also need to know what you are at risk for and how your body might respond to your environment, so we start by diving deep into your genetics with genetic testing.
We will compile your genetic findings and combine them with intense biometric and laboratory testing to find out your lipids, metabolic risk factors, hormonal status, and vitamin and mineral concentrations. This allows us to get a 360 degree picture of how your body is currently functioning.
Next, we test your microbiome with cutting edge assays to measure the billions of bacteria living in and on you that affect your health.
This complements a conversation with you about your life, family, work, goals, and dreams. Your "lab results" and optimizing those are a small part of the entire you. We recognize how important social connectedness, mindfulness, and a spiritual practice is to your overall wellbeing. We partner with you to optimize every aspect of your life.
---
Dr. Mike Mallin has been in medical practice for 10 years, but obsessed with health, physical performance, and longevity his entire life. Mike is board certified in emergency medicine and completed a fellowship in point-of-care ultrasound. During his fellowship he specialized in cardiac ultrasound and passed the National Board of Echocardiography credentialing exam.
Mike is an avid athlete who loves optimizing fitness, diet, sleep, and supplementation. He has participated in countless adventure races, ultra-marathons, cycling races, and even Crossfit competitions.
Mike's practice focuses on health optimization and the science of longevity - helping people live as long as they can with the highest quality of life obtainable. This requires special attention to cardiovascular health, as well as dementia and cancer prevention.
Dr. Mark Goodman specializes in the diagnosis and non-surgical treatment of musculoskeletal pain and injuries. He is dedicated to wellness and the comprehensive care of issues surrounding athletes and active patients.
Dr. Goodman has advanced training in musculoskeletal ultrasound for guidance of injection therapy, x-ray guided spine and joint injections, as well as the use of biologic treatments such as Platelet Rich Plasma (PRP).
In his free time he enjoys skiing, cycling, sailing, and spending time with his family.
Schedule your free consultation to get started on your journey to optimal health.